Celebrating 30 Years of Wild and Scenic Music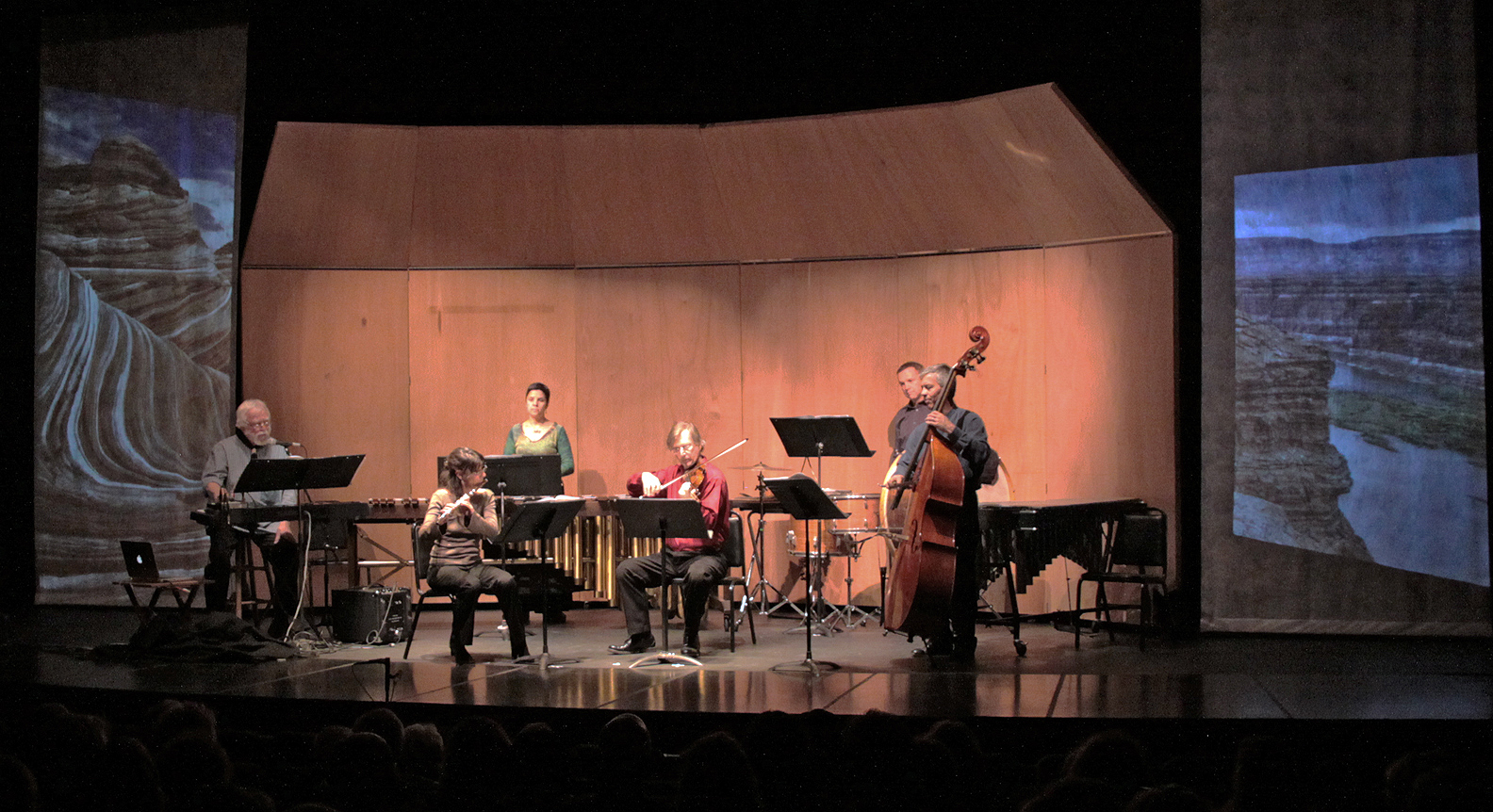 Praise for the Taos Chamber Music Group!
"One of the great treasures of Taos" -The Taos News
"Big magic…silken ensemble playing" -Albuquerque Journal
"A remarkable concert of juxtaposed styles" -Horse Fly
"Depth, vitality and inventiveness" -Spencer Beckwith, KUNM

PRESS RELEASE
Taos Chamber Music Group presents trailblazing quartet Hub New Music on January 28 & 29, 2023 at the Harwood Museum in Taos
The Taos Chamber Music Group's 30th Anniversary Season continues on Saturday and Sunday, January 28 and 29, 5:30 p.m. in a program called "New Pathways" at the Harwood Museum in Taos. The concerts feature Grammy-nominated Hub New Music, an unusual quartet combination of flute, clarinet, violin and cello. This will be Hub's second appearance in Taos, having performed their ground-breaking music to enthusiastic audiences in 2019. Now celebrating their 10th Anniversary, the group returns with a program that features the world premiere of a joint Taos Chamber Music Group commission called "shatter me" by 17- year-old composer Sage Shurman who will be in Taos for the performances. In addition will be James Diaz's "Lines of acid dreams," Dai Wei's "how the stars vanish…," Michael Ippolito's "Capriccio," Julius Eastman's "Joy Boy" and, with TCMG flutist Nancy Laupheimer, Efrain Amaya's "Pathways."
Says Laupheimer, who is also TCMG's Director, "this kind of programming reflects TCMG's ongoing commitment to presenting new music as well as young artists and composers. Hub is a diverse group of virtuosi who are commissioning some of today's most powerful voices in the contemporary music world and giving platforms to emerging artists across genres, genders and ethnicities."
Called "contemporary chamber trailblazers" by the Boston Globe, Hub New Music (Michael Avitabile, flutes, Gleb Kanasevich, clarinets, Meg Rohrer, violin/viola, and Jesse Christeson, cello) is making Taos one of its many appearances throughout the U.S. this season. Others include Boston's Isabella Stewart Gardner Museum, Arizona Friends of Chamber Music, Black Mountain College Museum and Arts Center, Soka Performing Art Center, Celebrity Series of Boston, and Brigham Young University. In addition Hub has residencies at the University of Michigan, University of Southern California and Brown University. The group has released two albums including Carlos Simon's "Requiem for the Enslaved"on Decca Classics which is nominated for a 2023 Grammy Award. Hub's debut album, "Soul House," released on New Amsterdam Records, was called "ingenious and unequivocally gorgeous" by the Boston Globe.
For its 10th anniversary, Hub will be launching a commissioning project of new works by leading composers with its Taos program. Sage Shurman is the first composer to be performed and was chosen as the winner of a collaborative competition between Hub and the Luna Composition Lab, which provides mentorship and performance opportunities to young composers who are female, nonbinary, or gender nonconforming. Shurman is a high school senior living in Pasadena and has already been in the Los Angeles Philharmonic Composer Fellowship program since 2020 and won an ASCAP Morton Gould Young Composer Award in 2022. Her work has been performed by ensembles such as the Los Angeles Philharmonic, members of the Los Angeles Chamber Orchestra, Sandbox Percussion and Triple Helix. Says Shurman, "My music strives to take listeners on a journey and make them feel or understand something in a way they hadn't before. The new piece, 'shatter me' for flute, clarinet, violin and cello is about an insatiable desire to be broken. It is a mixture of minimalism and maximalism, where ideas both breathe life and run out of breath… 'shatter me' searches for resurrection and reflects on what it even means to put the pieces back together."
James Diaz wrote "Lines of acid dreams" for Hub New Music in 2022 and says of the piece, "The four instruments playing almost entirely from beginning to end is a metaphor for twirling infinity lines, lines that intercut, contradict, and feedback mutually… Although we cannot separate time from space, the textures were imagined as different spaces or locations, and the timbral counterpoint strives to create vocal sounds and unison-like moments in a 3D harmonic space." Born in Colombia, Díaz is influenced by Latin-American landscapes, graphic design, photography, and the concept of psychedelia, His music has been called "stark, haunting elegance" with "intimate focus" by The Washington Post. Diaz is currently working on a studio album "[speaking in a foreign language]" as well as on a new orchestra work to be premiered by the New York Philharmonic and Juilliard at Lincoln Center in 2023. He has won multiple international and national awards, such as the 2015 National Prize of Music in Composition from the Colombian Ministry of Culture and the Bogotá Philharmonic Prize in Composition.
The next composer, Dai Wei, is originally from China. She describes her musical journey as navigating "in the spaces between east and west, classical and pop, electronic and acoustic, innovation and tradition." Described as "impassioned" by The New York Times,"with a striking humanity" by The Washington Post, and "incredibly creative and dynamic" by the Utah Symphony Orchestra, Wei was featured inThe Washington Post's "22 for 22: Composers and Performers to watch this year." The title of the quartet written for Hub in 2021, "how the stars vanish…," comes from a Rūmī poem called "Notice." Says Wei, "This piece is based on my observation and imagination of the stars…which can be an intimate, poetic conversation. We are just a mote of dust floating among the vast and tranquil Milky Way. Suddenly, a shooting star glides down the sky, while Orion and Pegasus are silently sharing their stories. Some of the stars are coming towards us, while some of them are vanishing."
Praised by the New York Times for his "polished orchestration, Michael Ippolito's music has been performed by leading musicians in venues around the world. Drawing on a rich musical background of classical and folk music, he takes inspiration from visual art, literature and other art forms. Says Ippolito of his 2019 Hub commission, "'Capriccio' began as a response to the work of Hans Hofmann, the influential German-American artist and teacher. Hofmann's best-known work is abstract…and the finest of these paintings are charged with intense emotion that is difficult to describe. Hofmann was clearly aware of the expressivity in his abstract art, giving his paintings evocative titles that demonstrate a poetic sensibility I found as irresistible as the images themselves.
To begin the Taos program, Hub is performing Julius Eastman's "Joy Boy," originally written in 1972 for unspecified combinations and numbers of instruments. Eastman, who died in 1990 at age 49, was a queer avant-garde composer whose work is only now being fully appreciated. He was an important part of the downtown New York music scene, moving between the worlds of disco, experimental and classical music. "Joy Boy" refers to the racist use of the word "boy" for Black people and looks to reclaim a joyful sense of self, in spite of the dread of the backlash that Black delight in oneself might inspire.
And finally, TCMG flutist Nancy Laupheimer will join Hub flutist Michael Avitabile for a piece called "Pathways" by Venezulan-born, American composer Efraín Amaya. The flute duet is written as "musical passes," inspired by Carlos Castañeda's "magical passes." Says Amaya, "I wanted to convey through music the feeling of well-being, of wholeness, which is the purpose of these passes. I also wanted to reflect how in nature everything is balanced and how everything is part of something else."
More information on artists and programs are available at taoschambermusicgroup.org. Tickets can be purchased at taoschambermusicgroup.org. or harwoodmuseum.org.