Celebrating 30 Years of Wild and Scenic Music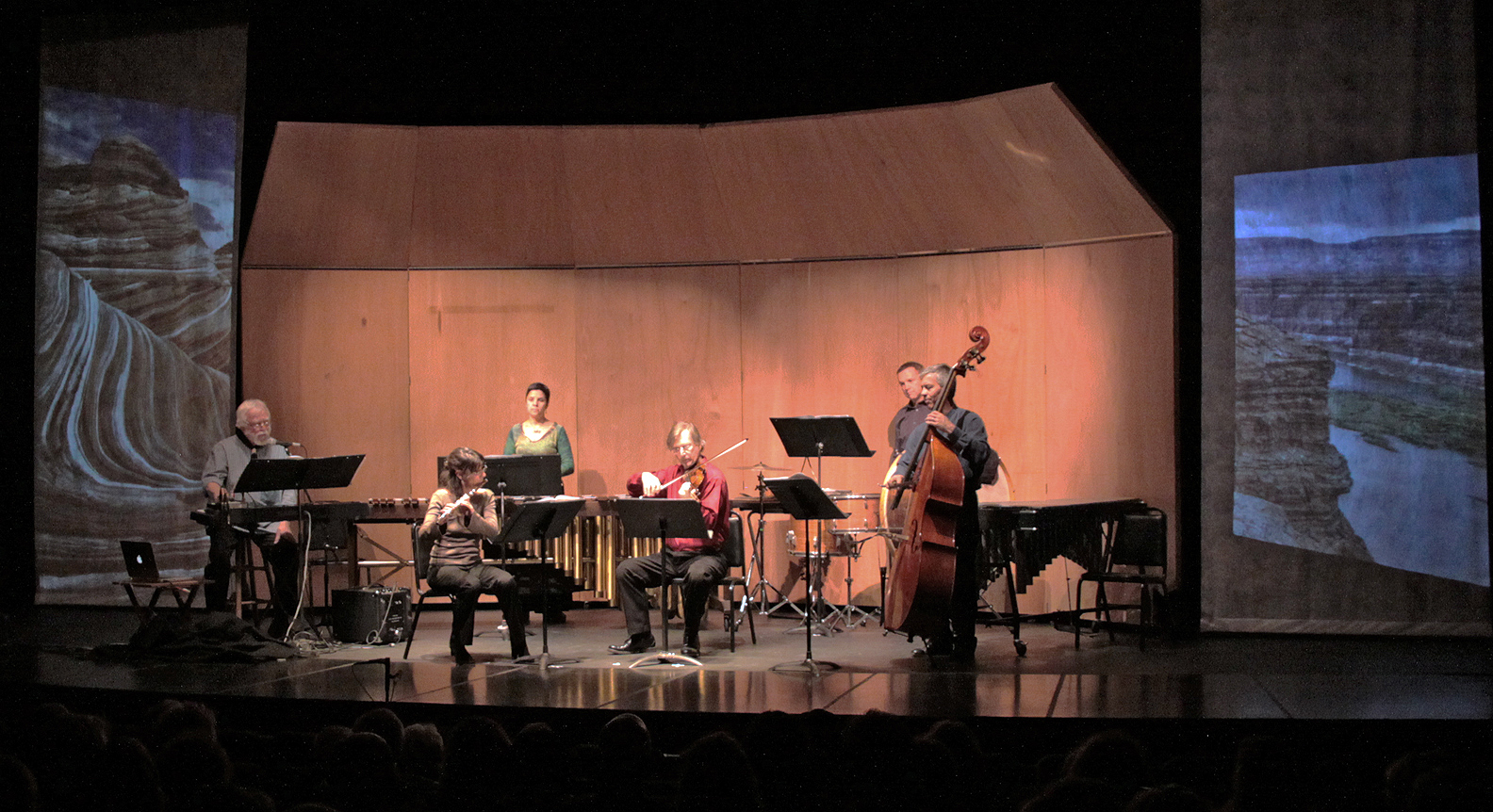 Praise for the Taos Chamber Music Group!
"One of the great treasures of Taos" -The Taos News
"Big magic…silken ensemble playing" -Albuquerque Journal
"A remarkable concert of juxtaposed styles" -Horse Fly
"Depth, vitality and inventiveness" -Spencer Beckwith, KUNM

PRESS RELEASE
 Taos Chamber Music Group 30th Anniversary Season Starts October 1 & 2! 
The Taos Chamber Music 's 30th Anniversary Season will begin on Saturday and Sunday, October 1 and 2, 5:30 p.m. at the Harwood Museum of Art. A program called "Sounds of Shakespeare" launches the 2022-2023 series with a TCMG signature multimedia presentation that combines some of Shakespeare's most powerful words with music connected to them. The performances will feature Taos thespian David Garver reciting from the plays. Music includes Erich Korngold's Much Ado about Nothing Suite for violin and piano, Christoph Gluck's Minuet and Dance of the Blessed Spirits from Orfeo ed Euridice for flute and piano, David Lang's wed for solo piano, Michael Torke's Sprite for flute and piano and Benjamin Britten's Gemini Variations for flute, violin and piano four-hands. Musicians are Kim Bakkum and Martha Shepp, piano, Elizabeth Baker, violin and Nancy Laupheimer, flute.
Laupheimer, who is also TCMG's founder and director, says having performers for this program who all live in the Taos area is a return to the group's early years. "It was always a dream of mine to live in a rural setting where there were musical colleagues of a high caliber, and out of that might come some concerts."
A lot more than "some" concerts came out of Laupheimer's vision. Over the past three decades TCMG's roster expanded to include artists from around the country, the state, and even the world, performing hundreds of concerts and educational programs that have earned TCMG a reputation for artistic excellence and innovative programming rooted in Taos' cultural diversity, arts community and awe-inspiring natural surroundings.
Not only is "Sounds of Shakespeare" home-grown, it is also an example of the myriad multimedia collaborations that TCMG has spearheaded; including working with composers, non-classical musicians, filmmakers, photographers, painters, dancers and poets, to name a few.
Laupheimer and Garver had been brainstorming the idea for "Sounds of Shakespeare" for quite some time, but when the program was originally scheduled for May, 2020 it had to be cancelled because of COVID. TCMG is thrilled to finally bring the project to audiences. "I am excited and honored to be a part of this program," says Garver. "Nancy has introduced me to a whole world of music I may never had given a listen to. Taos Chamber Music is one of the finest originations in Taos. 30 years of success and world-class performances! And it's so good to have The Bard swirling in my head again!"
Garver will perform speeches, interspersed with the music, from Much Ado About Nothing, Henry the Vlll, The Tempest and Twelfth Night. Most have musical references and connect to the titles of the instrumental selections in various ways. Much Ado About Nothing Suite was written as incidental music for the play, as was wed for The Tempest. The excerpt from Gluck's opera Orpheus and Eurydice connects to Orpheus in the famed speech from Henry VIII ("Orpheus with his lute made trees"), and a Sprite (Ariel) is integral to The Tempest. Finally, the connection to Gemini Variations (which was written for twins) is Shakespeare's frequent use of twins in his plays as well as having twins himself. Orsino's immortal speech from Twelfth Night ("If Music be the food of love, play on!") was a perfect fit.  
Following the October 1 and 2 shows, TCMG's 30th season will continue with six more programs (most with two performance dates), that feature a wide variety of concerts presented by master musicians combined with other artistic disciplines. These one-of-a-kind performances return to the Harwood Museum of Art where TCMG has been the Resident Chamber Music Group since 1998. The series culminates on June 2 and 3, 2023 with a commission by long-time TCMG collaborator Robert Mirabal, who is composing a new piece for TCMG's anniversary that honors Taos Pueblo and the greater Taos community. It will coincide with the opening celebration of the Harwood's Centennial Anniversary.
More information is on TCMG's brand-new website, where the concert calendar, artists' bios, program descriptions, history, videos, and ticket links can be found. Visit taoschambermusicgroup.org.