Celebrating 30 Years of Wild and Scenic Music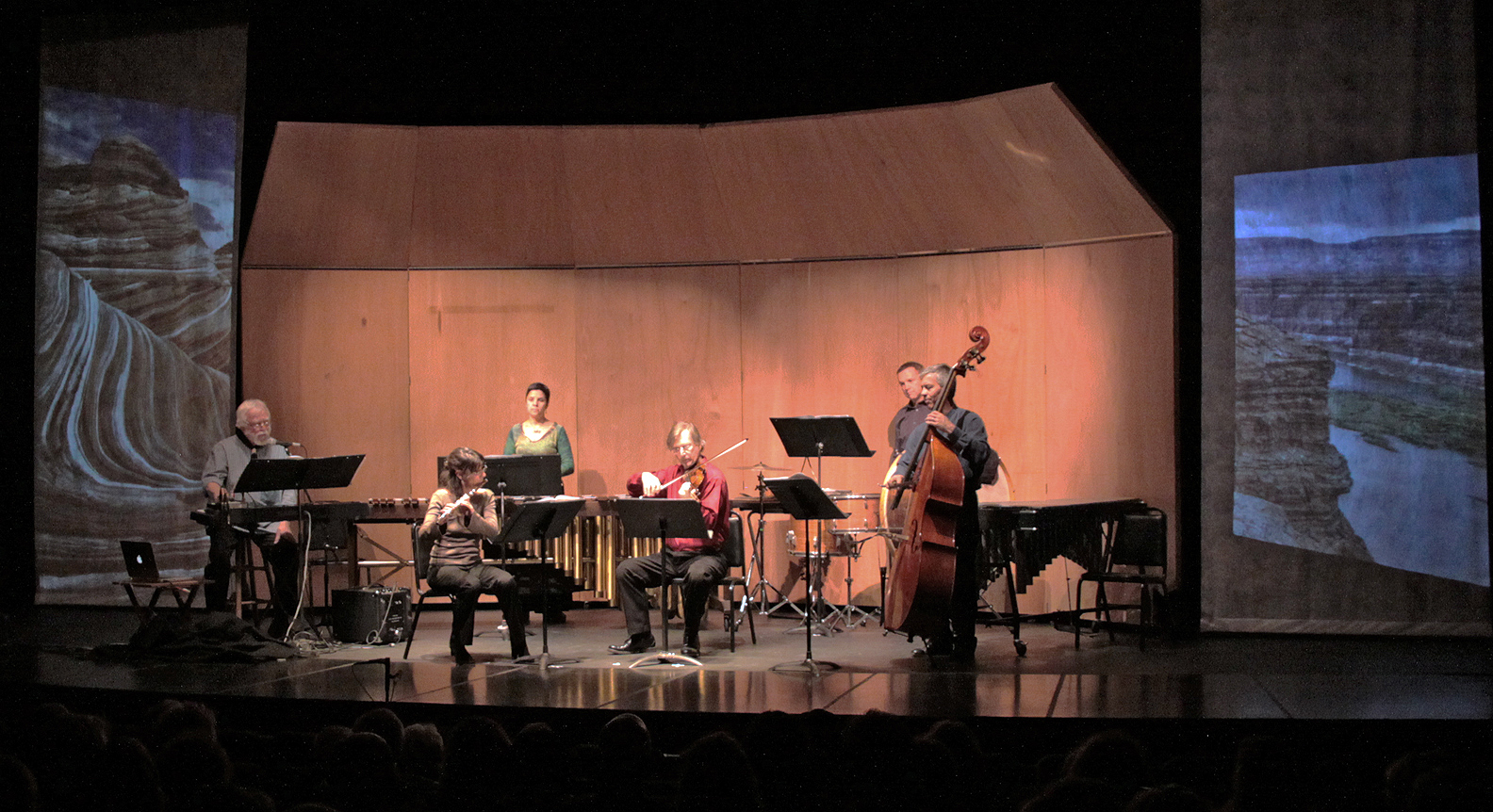 Praise for the Taos Chamber Music Group!
"One of the great treasures of Taos" -The Taos News
"Big magic…silken ensemble playing" -Albuquerque Journal
"A remarkable concert of juxtaposed styles" -Horse Fly
"Depth, vitality and inventiveness" -Spencer Beckwith, KUNM

PRESS RELEASE
Taos Chamber Music Group presents "A Love Affair," Sunday March 5, 2023, 5:30 p.m. at the Harwood Museum in Taos
The Taos Chamber Music Group's 30th Anniversary Season continues on Sunday, March 5, 5:30 p.m. in one performance only of "A Love Affair" at the Harwood Museum of Art. The multi-disciplinary program is informed by art, poetry and letters that reflect love in its many forms, including Georgia O'Keeffe's deep connection to the New Mexico landscape, Maya Angelou's poem of human unity, and Robert and Clara Schumann's immortal love affair.
This program also marks 25 years since the Taos Chamber Music Group first performed at the Harwood Museum on the Steinway piano that had been donated to the group and which is housed in the Museum. For most of its history, TCMG has been the Harwood's Resident Chamber Music Group.
Like so many of TCMG's presentations over its many years, "A Love Affair" is another example of the innovative programming for which the group has become known. It features a unique portrait of Robert and Clara Schumann's romance that combines readings of their letters with performances of Robert Schumann's "Fairy Tales" and Max Bruch "Eight Pieces," both for clarinet, viola and piano. There will also be works by three living women composers – Jesse Montgomery's "Peace" for clarinet and piano, Valerie Coleman's "Fanmi Imnen" (Human Family) for flute and piano, and Libby Larsen's "Black Birds, Red Hills" for clarinet, viola and piano. TCMG musicians are David Yang, viola, Graeme Steele Johnson, clarinet, Nancy Laupheimer, flute, and Debra Ayers, piano, with actors Gail and Peter Springer, and Kent Kirkpatrick.
Violist David Yang put together the Schumann project that will make up over half of TCMG's program, curating the narrative and letters that will be read. Described as a Renaissance man with a career that blends performing, storytelling, composition and teaching, Yang is the Director of Chamber Music at the University of Pennsylvania as well as Artistic Director of the Newburyport Chamber Music Festival and the Ashburton Chamber Music Festival in Devon, England.
Says Yang, "The love affair between Robert Schumann and Clara Wieck was one of the great romances of the 19th century. In 1828, Clara was well on her way towards becoming one of the great virtuoso pianists of her era when Robert became a pupil of her father. Schumann at first took a brotherly interest in his teacher's precocious daughter and the two became fast friends. But eventually their friendship blossomed into something else. Clara's controlling father turned viciously on the couple and they were forced to go to court for the right to marry. They eventually prevailed and lived in happiness as their respective careers blossomed. But their happiness did not last as Robert was tragically struck down by a life-long struggle with depression. This is a portrait of their life together in both music and words, culled from hundreds of letters sent between the two lovers right up until Robert's untimely death."
A fascinating connection with regard to the inclusion of Bruch's music with Schumann's as part of the project is revealed when Yang writes, "The great 19th century virtuoso violinist Joseph Joachim and Johannes Brahms were some of the only ones allowed to see Schumann at the end of his life (not Clara!), and Joachim was also a close friend of Bruch's in addition to Brahms' best friend. The plot thickens further personally as my viola was Joachim's own instrument, so there is an actual physical connection there!" 
Music informed by art takes center stage in Libby Larsen's "Black Birds, Red Hills".  Says Larsen, "Black Birds, Red Hills" is inspired by six paintings of Georgia O'Keeffe. Each painting explores the flow of time and color on her beloved red hills of New Mexico…and reveals her perspective, beauty and meaning through the magnification of objects, specifically the horizon line, the black rock and the black bird." The six short movements have the same titles O'Keeffe gave to the paintings: Pedernal and Red Hills, Black Rock with Blue Sky and White Clouds, Red and Orange Hills, Red Hills and Sky, A Black Bird with Snow-Covered Red Hills, and Black Bird Series.
A bigger concept of love, the unity of the human family, was the taking off point for highly-acclaimed contemporary composer Valerie Coleman. "Iman Fanmi," the Haitian Creole for the title of Maya Angelou's famous poem, "Human Family", explores through different musical influences the vast variety of people's ethnicities, backgrounds, and geography. But ultimately, as Angelou's poem asserts, "we are more alike, my friends, than we are unlike," and the music even has a section where the flute is tapping out Morse code for UNITY based on a djembe rhythm from Africa!
Another much performed African American composer, Jessie Montgomery, composed "Peace" in 2020 in response to the pandemic and the world-wide quarantines. She wrote, "facing the shock felt by the whole globe as well as personal crisis, I find myself struggling to define what actually brings me joy…I'm learning to observe sadness for the first time not as a negative emotion, but as a necessary dynamic to the human experience."
"Peace" will feature TCMG newcomer, clarinetist Graeme Steele Johnson, who has appeared in recital at The Kennedy Center and Chicago's Dame Myra Hess series, and as a chamber musician at Carnegie Hall, the Ravinia Festival, Phoenix Chamber Music Festival, Chamber Music Northwest and Yellow Barn. Johnson's concerto appearances include the Vienna International Orchestra, Springfield Symphony Orchestra, Caroga Lake and Vermont Mozart Festival Orchestras and the CME Chamber Orchestra, as well as an upcoming performance and recording with the Lviv Philharmonic in Ukraine.
More information on artists and programs are available at taoschambermusicgroup.org. Tickets can be purchased at taoschambermusicgroup.org. or harwoodmuseum.org.