Celebrating 30+ Years of Wild and Scenic Music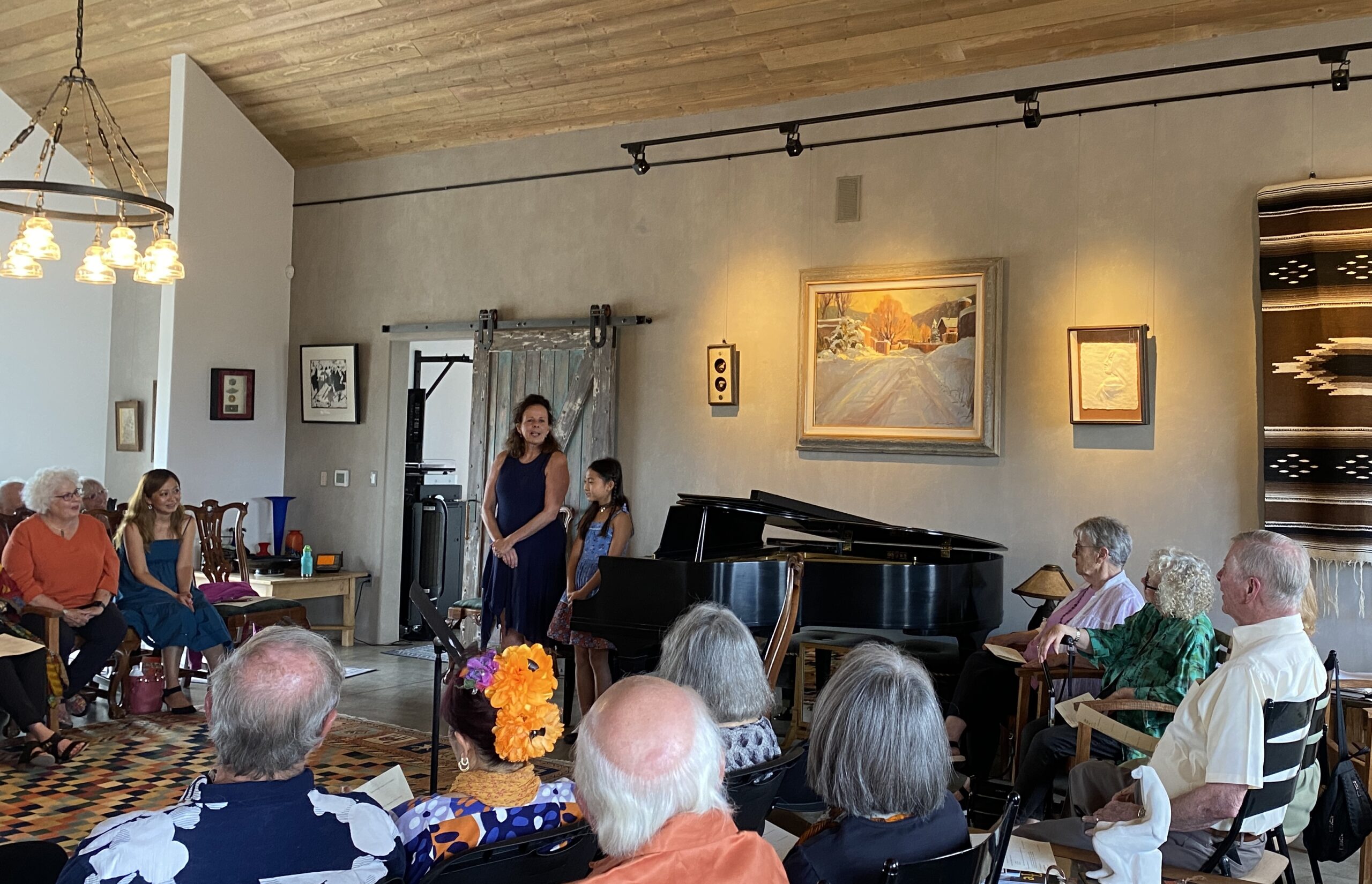 SUPPORT TAOS CHAMBER MUSIC GROUP
For over 30 years the Taos Chamber Music Group has presented concert series that have earned it a reputation for artistic excellence and innovative programming. Performances take place at the Harwood Museum of Art – where TCMG is the Resident Chamber Music Group – in the acoustically rich and appealing Arthur Bell Auditorium. Special concerts for our contributors are presented in private homes as an intimate gathering of friends. We truly could not continue to provide the first class chamber music experiences we are renowned for here in Taos without the support of our patrons, Board Members, volunteers, the staff of the Harwood Museum and the dedicated, top quality musicians who join the TCMG programs.
How can you support Taos Chamber Music Group?

CONTRIBUTION LEVELS
CONCERT SPONSOR – $2,000 & above – Recognition at concerts, 4 complimentary tickets, free events, reserved seating, attendance at rehearsals
CONCERT CO-SPONSOR – $1,000 & above – Recognition at concerts, 2 complimentary tickets, free events, reserved seating, attendance at rehearsal
BENEFACTOR – $500 & above – free events
PATRON– $300 & above – some special events
CONTRIBUTOR – $100 & above – Contributors Concert
FRIEND – under $100 – listing in program
Your support through donations of any kind and at all levels helps ensure that this beloved Taos musical legacy will continue for generations to come. Taos Chamber Music Group is a non-profit, 501(c)(3) organization (Federal tax identification number 74-2818729). Contribution levels and a downloadable Contribution form can be found here. All donations are tax-deductible.
BY MAIL: If you choose to make your donation via personal check your full contribution will go to TCMG without credit card fee deduction. Please download, print, and complete the PDF form below, and send it along with your check to: Taos Chamber Music Group, P.O. Box 3442, Taos, NM 87571.
ONLINE: Click the "DONATE" button below for your online contribution to Taos Chamber Music Group,

You will see a link like the one below after you click the "Donate" button, if you would like to specify how your name will appear in the program:

IN-KIND and SPECIAL DONATIONS: If you are interested in making an in-kind donation or if you could consider a special gift of $5,000 dedicated to helping TCMG bring its audio and visual offerings to the next level, please send our Executive Director, Pam Morris an email here to discuss.

ESTATE and GIFT PLANNING: If your estate and financial planning includes legacy gifts to the TCMG Endowment Fund of stock, funds from IRA accounts, or other trust or estate investments, please contact Edward Jones, (575) 751-7285. We greatly appreciate this honor if you choose to include TCMG in your will or estate plans. Please note that Qualified Charitable Distribution (QCD) may allow IRA holders, age 70 ½ or older, to donate to a qualified charity from their Traditional or Roth IRA (including inherited) tax-free. Please consult with your financial and tax advisors for more information.
VOLUNTEER: TCMG gratefully accepts volunteers to help with tickets, concert production, musicians' housing and mailings. Email pam@taoschambermusicgroup.org to sign up!
Thanks so much for your support! Pam Morris, Executive Director; Nancy Laupheimer, Artistic Advisor;
and the TCMG Board of Directors: Elizabeth Baker, Mary Burns, Martha Grossman & Rhonda Turner